Configure Appointment Details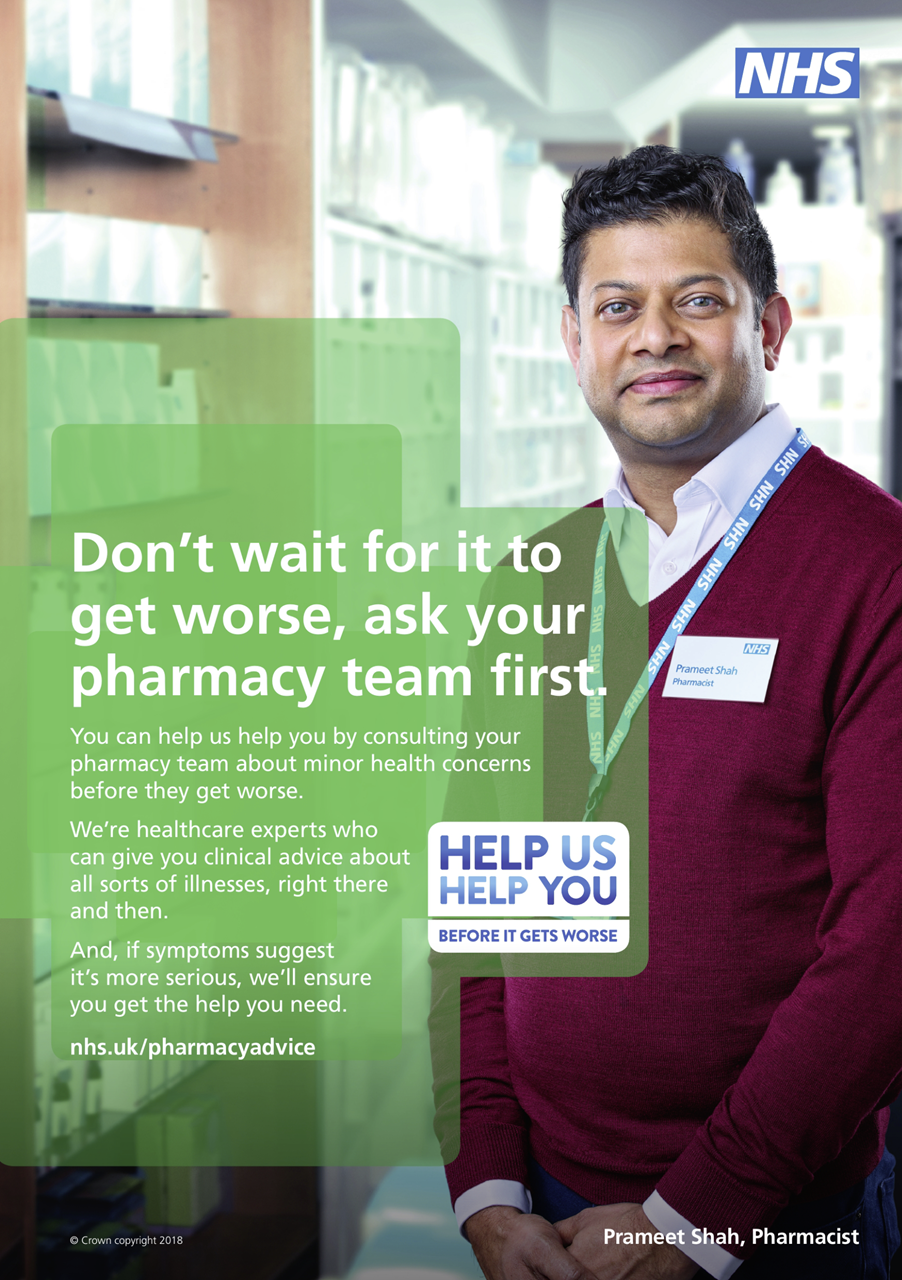 Before booking an Appointment consider if it is right for your condition
Many minor illnesses can be treated by self care or by consulting a pharmacist at your local Chemist. Many common viral ailments cannot be treated by antibiotics and will run their natural course. But releiving the symptoms by use of over the counter medication will help.
Most common ailments can last longer than most people realise e.g.
Ear Infection = 4 days
Sore Throat = 1 week
Cold = 1 week
Flu = 2 weeks
Cough = up to 3 weeks
Nasal Congestion = up to 3 weeks
What to do if you are not sure if you need an appointment
There are many sources of information on line to help you manage simple ailments. Find out more at the Self Care Forum http://www.treatyourselfbetter.co.uk/
Alternatively if you are not sure of local services you can visit the NHS 111 website by clicking this link NHS 111 Website or ring them on 111 from a UK landline or mobile phone
Book an Appointment
Book an Appointment
BOOK AN APPOINTMENT
Appointments can be either Face to Face, Video or Telephone – ideally if virtual video is the preferred mean so that you can see the clinician and the clinician can see you. Please ensure that you advise the practice of your up to date contact details.
To book an appointment, ring our main switchboard number on 01254 964640 Option 1
To book appointments online please see below for details on how to sign up for Patient Access via computer or MyGp app via smartphone or tablet
Please note if booking by telephone our reception staff will ask you a series of questions to ensure you see the person most appropriate for your condition, For more information click on the Care Navigation Link below:
Urgent cases are consulted with on the day
If your condition is non-urgent, you can expect to consult with your usual/named GP within 10 working days, though you may have to wait a little longer if your GP is on leave.
In order to manage demand effectively and assess capacity needed appointments are added to the clinical screen two weeks in advance however if a clinician wants you to attend a review appointment outside of this they will advise staff internally
Expect to consult with a member of our nursing team within 5 days
Appointment Information
CANCELLING AN APPOINTMENT
It is important that you inform the reception staff if you no longer need your virtual or face to face appointment, this will allow that appointment to be offered to another patient. If you fail to notify the Practice that you are unavailable for your booked appointment, you will be sent a letter informing you that you have defaulted from your appointment. Persistent defaulters maybe removed from the list.
You can also complete our appointment cancellation notification request form. This can only be used if your appointment has been arranged for more than 24 hours in advance. (excluding weekends and public holidays). You can also text to cancel your appointment.
IF YOU NEED A HOME VISIT
A small number of our patients are housebound (unable to leave their home) or those deemed too ill to attend surgery. For genuinely housebound patients we offer a Home Visit service. If you require a home visit we would ask that you contact the surgery before 12:00 pm so that your visit request can be allocated to an available clinician. Please telephone 01254 964640 option 4
PLEASE NOTE THAT :A member of the practice clinical team will contact you by video or telephone to access the medical problem. Many visits can be addressed without the need to visit however if a visit is required arrangements will be made. Please note the visiting clinician will be wearing full Personal Protective Equipment (PPE).
After 12:00 pm requests for home visits will still be taken and assessed as above.
Important Information
VIRTUAL APOINTMENT
Please be available for your allocated appointment , if the clinician is unable to make contact with you on the telephone number provided they will send you a text message.
IF YOU KNOW YOU ARE GOING TO BE UNAVAILABLE AT THAT TIME DUE TO UNFORSEEN ISSUES PLEASE LET RECEPTION KNOW SO THAT THEY CAN INFORM THE CLINICIAN
IF YOU NEED AN INTERPRETER
If English is not your primary language and you require an interpreter please let the receptionist know so that language line can be arranged.
JAYEX SCREENS
The practice historically used call boards in the waiting room to let patients know when their clinician is ready see them.
IF YOU ARE LATE FOR YOUR APPOINTMENT
Please attend your appointment on time, if you are late you may not be seen
If you are less than 15 minutes late you will be still be seen although there may be a short delay. If you are more than 15 minutes late the receptionist will check if the clinician can still see you if your appointment is non-urgent and they are unable to see you the receptionist can reschedule the appointment for you. IF YOU KNOW YOU ARE GOING TO BE LATE DUE TO TRAFFIC ETC PLEASE LET RECEPTION KNOW SO THAT THEY CAN INFORM THE CLINICIAN
CARE NAVIGATION – RECEPTION WILL ASK YOU QUESTIONS TO ASCERTAIN THE RIGHT PERSON TO HELP YOU
If you are not registered for online access you can contact the practice by clicking on the online forms below
Using the Online Appointment System
The Practice allow patients to pre-book appointments for GP's and Clincal Practitioners online. This can either be done on a computer through the Patient Access website or on tablets or phones using the myGP app which can be downloaded through the Google or Apple stores. For further information on the myGP app click the image to the right
An application form for access on a PC can be donloaded by clicking on the link below
In both cases verifcation will be required from the practice before you can access the appointments or your medical and prescription dedtails'
Surgery Times
Reception is open Monday to Friday from 08:00 to 18:30. Surgeries are held at various times between the times listed opposite.
We offer extended hours appointments on a Monday between 18:30 to 20:00 and on a Wednesday 18:30 to 19:15.
To find out when our doctors, clinicians and nursing staff are in the practice please click on the links below (but please be aware that the rotas do not show annual leave or protected learning time).
| | | |
| --- | --- | --- |
| | Morning | Afternoon |
| Monday | 08:30 - 11:30 | 12:00 - 20:00 |
| Tuesday | 08:30 - 11:30 | 12:00 - 18:00 |
| Wednesday | 08:30 - 11:30 | 12:00 - 19:15 |
| Thursday | 08:30 - 11:30 | 12:00 - 18:00 |
| Friday | 08:30 - 11:30 | 12:00 - 18:00 |
| Saturday | closed | closed |
Extended Appointments - Spoke
Patients can be booked into one of the four spoke surgeries via our receptionists accordingly: Please contact us now on 01254 964640
Location of Clinics:
Darwen Health Centre
Barbara Castle Way Health Centre
Little Harwood Health Centre
Shadsworth Surgery
Availability:
Darwen Health Centre - Monday to Friday 17:00 until 21:00.
Barbara Castle Way Health Centre - Monday to Friday 17:00 until 21:00, Saturday and Sunday 08:45 am until 14:30.
Little Harwood Health Centre - Monday to Friday 16:00 until 20:00
Shadsworth Surgery – 17:00 until 21:00
Nurse Asthma and Smear Clinics available to book for Saturday and Sunday Clinics 09:00 to 14:00 at Barbara Castle Way Health Centre in Blackburn.
Non-NHS Services & Private Work Fees
Policy on Medicals, Letters and Forms
Darwen Healthcare is proud to offer quality care to our patients under the terms of our NHS contract. Unfortunately, General PracticeS across the UK are under severe pressure. Some types of work which have been traditionally done by GP's is not actually NHS work and does not form part of the NHS contract.
In order to provide good NHS care, the doctors at Darwen Healthcare need to limit the amount of private (non-NHS) work they do. If you request non-NHS work, the request may be declined and you may need to consult a private doctor instead.
The finformation to the right explains what Darwen Healthcare does and does not provide. If you have queries about this policy please speak to Ann Neville, Practice Business Manager
ITEMS WE PROVIDE FREE OF CHARGE
Fit for work certificates
AFTER a period of 7 days of self-certification for any illness/work absence, for the purpose of sick pay and benefits only, we can supply a Fit for Work certificate (commonly known as a sick note or MED3).
Following an admission to hospital it is the hospital discharging teams responsibility to provide you with advice about your return to work and provision of a fit for work certificate.
Prescription Charge Exemption certificates
If you fulfil the criteria as per the form, please complete and leave at reception to be completed by a GP
Referral letter to NHS or Private Hospitals
All referrals are dealt with by our secretarial team. If you have any queries, please speak to them directly rather than the GP.
Items we can provide for a Fee
Adoption/fostering medicals, HGV and taxi driver medical examinations
Please speak to our reception team who will advise you of any fee payable in advance and will book you for the appropriate appointment. At times, there may be a wait for these appointments. For HGV/ taxi medicals please ensure you have had the eyesight section signed BEFORE seeing the GP.
Travelling/flying with medication
All injectable medications in hand luggage will require a certificate. This applies to carrying certain other medication, even tablets, when travelling to certain countries. If in doubt consult your airline, travel agent or the embassy of the country you intend to visit.
Medical examinations for leisure activities
We MAY be able to complete medicals for activities such as flying/sailing but NOT for diving or dangerous sports. An appropriate appointment will be booked for you only when the GP has confirmed they are willing to complete the form and payment has been made.
Private sick notes
If your employer requires a sick note BEFORE 7 days of absence, we can supply one with your written permission.
Shotgun and Firearms License Applications
The decision about fitness to own, hold or renew a firearms licence rests with the police. However you are obliged to cooperate with the police by checking your medical records at the start and renewal of your license and a code added to your notes that you hold a firearms license.
Fit to fly (air travel as passenger)
We MAY be able to provide a letter to confirm a medical condition/pregnancy for the purposes of travel. This is in the form of a statement of fact rather than a statement of "Fit to Fly".
The fees charged are based on the British Medical Association (BMA) suggested scales and our reception staff will be happy to advise you about them along with appointment availability. To see a list of BMA recommended rices click on the link below
Services we do not provide
MatB1 form, Maternity exemption certificates and healthy start forms
These are all issued by the midwife or Health Visitor
Applications for Passports, Visas, Character references
The organisations supplying these forms are able to suggest alternative signatories.
Fitness for exercise/gym
We encourage our patients to partake in regular exercise. The risk in undertaking activities at the gym is between you and your gym/instructor although if you require information relating to Blood Pressure etc a print off from your record can be provided.
Fitness for parachute jumps, mountain climbing, flying & diving etc
Certifying fitness to participate in dangerous or excessively strenuous exercise is beyond our area of expertise. Please ask your instructor about any concerns you have regarding your safety for these. We are happy to supply a print out of your notes, for a fee, for their consideration.
Diving requires a suitably qualified doctor to assess your fitness.
Letters about missing court appearances
Missing court is a serious matter. We will only provide a letter to the court if we are requested to do so by the court. Your solicitor will advise you further.
Letters about missed exams, to support exam conditions or school absence
We do not provide letters to advice about absence relating to school in any circumstance as sick notes are provided for employment purposes only.
Recording injuries for insurance/police
Recording injuries for the purposes of an insurance claim is not an NHS service. Your insurer can arrange a private medical examination if necessary. In the case of an injury resulting from an alleged assault a police doctor must assess and document injuries. We are not trained to do this work to the legal standard required.
Will-writing capacity and Power of Attorney
Testamentary capacity is a highly specialised area of medico-legal practice with important implications for the patient and family. If required the solicitor can arrange for a private consultation with a doctor, trained in this area, usually a psycho-geriatrician. Similarly, the same can be arranged as necessary if required in relation to Power of Attorney but this does not usually need a doctors opinion.
School Requests for Confirmation of Illness
It is becoming increasingly common that children attend our surgery and as part of the consultation we are requested to provide a "doctor's note" to verify the child's illness at the request of the school.
Absence from school is by and large due to self-limiting illnesses, which require either no treatment or a self-care approach. As such the child's parent or guardian can verify the child's absence from school and the reason for this directly with the school, including on a recurrent basis.
By requesting confirmation of illness when a child is absent from school encourages attendance for self-limiting and minor illness that is unnecessary. It also means that the child has to attend the surgery for an appointment, for the purpose of obtaining confirmation of illness, which takes an appointment away from a patient with a genuine medical need. In requesting confirmation of sickness for children we also have to consider confidentiality and the relationship we have with our patients.
Providing written confirmation of an illness for a child is not part of the NHS service we provide and is not a requirement in line with BMA guidance.
https://www.bma.org.uk/advice/employment/gp-practices/service-provision/supporting-pupils-at-school
At Darwen Healthcare we will not provide a doctor's note for children who are absent from school.